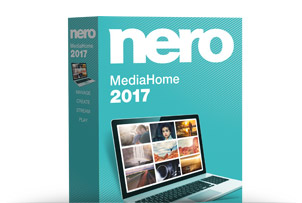 Quote:Nero MediaHome – The heart of your multimedia world!
Bring an end to time-consuming searches for your vacation photos, favorite movies, or music hits. With Nero MediaHome you can control your digital life. Whether music, photo, or video, whether on your PC or mobile device: Nero MediaHome is the universal media center for archiving, organizing, creating, and playing back your files.


ARCHIVE


Give your multimedia files a home: Send photos and movies to your PC wirelessly from your iOS or Android mobile device and by USB from external hard drives or memory sticks. Import music files or rip music from audio CDs and – thanks to Gracenote technology – even include original album art. With items archived in clearly arranged categories such as date, faces, places, favorites or personal tags, you can now find all your media even more quickly. You can even connect directly to Windows Media Player and iTunes media libraries.
Lifetime License
No Updates
You are not allowed to view links.
Register
or
Login
to view.