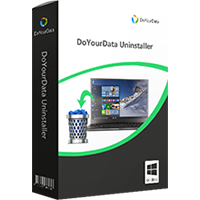 DoYourData Uninstaller Pro is a smart uninstaller. This PC uninstaller can help Windows users to easily uninstall unwanted programs one by one or in batches. It will completely uninstall selected programs and clean up all leftovers including logs, junk files, registry files, logs, caches, etc. It also can help in easily and completely uninstalling useless plug-ins, games, Windows apps, etc.
Installing programs or plug-ins is very easy for Windows users. However, over many useless programs and apps will take much precious disk space of the hard drive and slow the speed of the PC. In order to remove unwanted programs and regain the disk space, DoYourData Uninstaller offers an intelligent solution to uninstall programs and clean up all leftovers. It also can thoroughly uninstall useless Windows apps, plug-ins and games, etc. DoYourData Uninstaller will deeply scan the hard drive and find all leftovers. So it can help PC users to regain the full storage of the uninstalled programs.
DoYourData Uninstaller is very easy-to-use. Users only need to select the programs to uninstall. This smart uninstaller will do all the rest things automatically. It is fully compatible with Windows XP, 2000, 7, Vista, 8/8.1 and Windows 10. It is 100% clean and safe.
You are not allowed to view links.
Register
or
Login
to view.
Thanks to DoYourData sales we are able to giveaway DoYourData Uninstaller Pro 3.0 (worth $14.99) to all our readers of Promo2day as a time-limited giveaway for 72 hours. 

Just download and use the license code shown in the txt.file below to activate it to a lifetime pro version.You are not allowed to view links. Register or Login to view.
[
attachment=111
]