IObit Start Menu 8 PRO (v5.4.0.2) Multilingual
Start Menu 8
is designed to bring back the familiar Classic Start Menu to Windows 8/8.1 & Windows 10.
Start Menu 8 offers a convenient and simple solution to freely switch between the latest Window 10 start menu and Windows Classic Start Menu. It also provides multiple start menus for Windows 7/Vista/XP.
With the improved searching engine, you can quickly and easily access your apps and files from the start menu. Start Menu 8 allows more customization with just a few clicks, which provides the options to skip Modern UI & Welcome on Windows 8.1 and customize your taskbar any way you like on Windows 10.
You can select a button that looks like the classic Windows 7 button or set your favorite picture as the start button in Windows 8 & Windows 10 style. You can easily switch to Windows 10 start menu from classic start menu with one-click.
Start Menu 8 is an easy-to-use program that returns the Windows 10 start menu to familiar Windows 7 style and allows for more customization with just a few clicks of a mouse. Start Menu 8 gives you an option to bring back the local search bar and swap web search with Cortana. With Start Menu 8, you have options to easily change your taskbar including color, alpha, and system time display. Moreover, you can one-click merge taskbar buttons & hide the Cortana/Search box and virtual desktops button which take up substantial taskbar space.
Start Menu 8 Features:
- More Efficiency and Convenience
- It not only brings back the convenient Start Menu to Windows 8, but also allows you to bypass Metro screen on start of Windows 8 and boot to desktop directly.
- Easily Switch between Metro and Desktop interface
- You can easily switch between two modes by pressing and holding the Windows key, depending on your preference.
- Faster Access to Programs and files
- It brings back Start Menu where you can get quicker access to programs, documents and files, control panel and settings.
- Quicker Searching
- Unified and instant Searching for both desktop and Metro apps decreases the time taken in Searching and makes your work more efficient.
- Customizable to your needs
- You can pin programs to Start Menu and Taskbar for quicker access to your favorite programs. It's easily customizable to have everything you need at just one click.
What's new in Start Menu 8 v5.4:
+ Less resource occupation and faster startup.
+ Optimized the algorithms to load "All Programs" faster.
+ Fixed known bugs.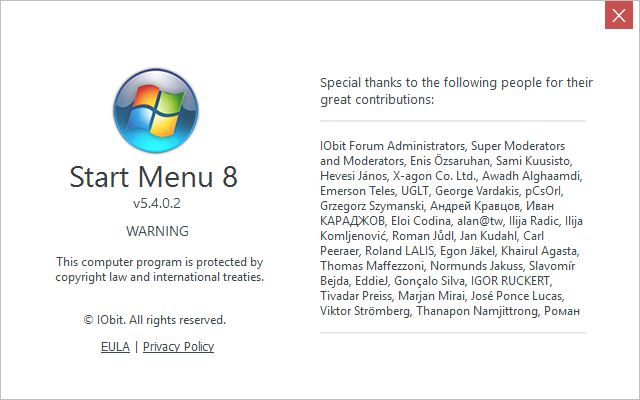 Operating System:

• Windows XP/Vista/7/8/8.1/10
Homepage:
https://www.iobit.com/en/iobitstartmenu8.php
Download:
https://cdn.iobit.com/dl/sm8-setup.exe