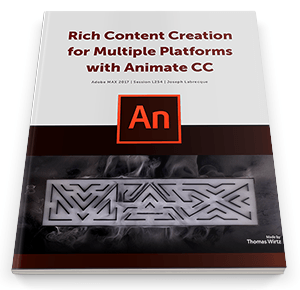 Quote:Over the years, we've put together a large collection of free Adobe books that we share with our readers here… This extensive set of helpful, no-cost books has now grown to over 30 different titles that you can legally download and use royalty-free, forever.

These digital books cover Creative Cloud, Creative Suite, Photoshop, Illustrator, InDesign, Dreamweaver, Muse, Lightroom and more – but up till now, we haven't had a good and recent offering for Adobe Animate CC (formerly Flash Professional).


Fortunately, this has just changed with the publication of the new "Rich Content Creation for Multiple Platforms with Animate CC" guidebook, which comes from award-winning Adobe Education Leader and longtime Animate guru Joseph Labrecque.

Mr. Labrecque conducted a paid Animate CC workshop at the last Adobe MAX conference, and is now making the class's training materials available to the general public completely free of charge. This special offer includes the main 104-page course workbook together with 17 MB of sample working assets, all of which you can You are not allowed to view links. Register or Login to view.

Discover how to get started creating engaging animated and interactive content across multiple platforms in this hands-on lab exploring the professional tools in Adobe Animate CC. You'll walk away with a solid foundation you can apply to your own projects. Joseph Labrecque, interactive content designer and developer, will show you how to:

Use the rich capabilities of Animate to create an assortment of assets and animations,
Take advantage of time-tested tips and techniques that let you work fast and produce compelling content for your projects,
Make your content interactive by leveraging simple code features within Animate,
Push the creative envelope using the latest new features in Animate.
Read here:
You are not allowed to view links.
Register
or
Login
to view.