I would like to thank uconomix Team for sponsoring this exclusive giveaway

We have 3 licenses: lifetime with upgrades to future versions
Giveaway will end on September 30, 2018
Photo Watermark Software for Windows, Mac and iOS
A watermark is a kind of mark or a symbol embedded in an object to identity its ownership or its authenticity. If your business depends on photos, you need a watermark software. If you are a professional photographer, you definitely need to watermark your photos to prevent photo theft. If you are not a professional photographer but take photos of items you sell online or offline then the photos are precious to your business and claiming the ownership of the pictures is absolutely essential in the world where people buy an item based on the photo. 
Value of watermarks:
Protecting the photo and prevent people from using them without your consent.
Add descriptive captions to photos
Tag friends in photos
Give information about the photo (EXIF data)
Make memes and comics
Mash photos together using image watermarks
Show your creativity. For example; you can add poems to your photo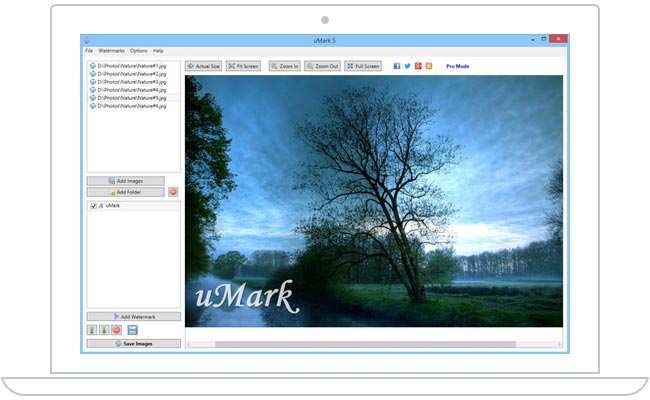 Platforms supported:
Support Multiple Platforms (PC and Mac)
Multi Language support:
Supports 8 languages so that you can use uMark in your language.
Features:
Add Text and Image Watermarks
Batch Watermarking of hundreds of photos
Add various shapes and fill them with solid or gradient colors.
Add QR codes as watermark on your photos
Apply borders to your photos
Add a shadow to make the photos stand out.
Fully Customizable Watermarks
Select from one of the 9 predefined positions to place your watermark
Put the watermark at your desired location on the image by specifying top, left coordinates or by drag and drop.
View the real-time preview of the watermark
Add EXIF and other metadata as watermarks. For example, date, camera information, other details
Save Watermarks for Later Use
Watermark tiling horizontally or vertically or both to cover the entire photo for maximum protection
uMark Photo Watermarker 6.2 for Windows Launched
New version of uMark Photo Watermarker for Windows is now available. The new version 6.2 fixes some bugs and adds some new functionalities. 
Option to open output directory after saving
Font preview options: fonts are now displayed in their preview in the font chooser drop down.
READ THE FULL REVIEW HERE
Rules:
Please follow these THREE simple rules:
1. Leave a

reply

below about your favorite features
2.

Share

the giveaway on social media, copy this code:
Code:
Enter the #Giveaway #Contest arranged by @Promo2day Forum and @uMarkWatermark: uMark Photo Watermarker to Win a lifetime license with upgrades: https://www.promo2day.com/showthread.php?tid=25311
3.

HexaVault Password Manager:

  new free application from uconomix for your smartphone:
Comment on this FREE app review HERE OR install the application and leave rating and review on google play or iTunes (according to your device)......Developer recommendation
Good Luck for all!