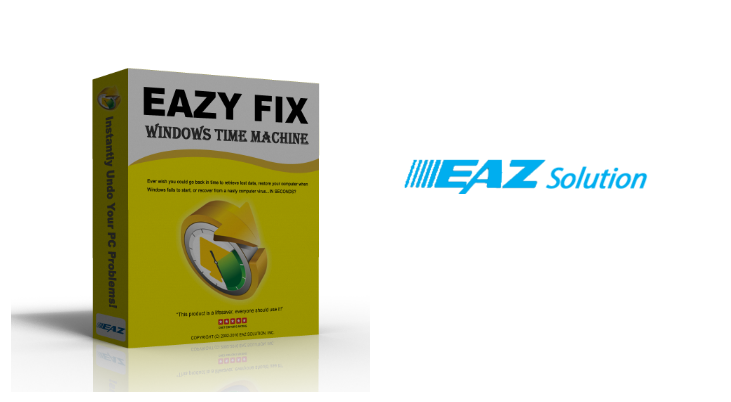 Eazy Fix
 is a system instant recovery solution. It lets users to instantly undo PC problems by reverting the PC back to last hour, yesterday, last week or last month before the problems have happened. Eazy Fix works even if Windows O.S. fails to bootup.
Highlights
1 minute

 to setup Eazy Fix.


5 seconds

 to create a snapshot.

A snapshot contains 

100%

 of Windows system, user data, programs and settings (WYSIWYG).


10 seconds

 to rollback the computer to a snapshot even if Windows fails to bootup.

Pricing                                                                         
Exclusive
30% Off on Regular License
Eazy Fix has two license models:                    
Coupon Code PCUN-LIXT-BLIH
$34.95 Regular License
. The license comes with one year FREE license maintenance.            
$10.50 Upgrade License
. The cost of an upgrade license is 30% of a regular license.            
$06.30 License Maintenance
. The cost of license maintenance is 18% of license cost.
                                                             The license maintenance is an optional and annual subscription based service. It provides
                                                             free upgrades, developer support, phone support and other support related services.
$13.98 Annual License
. The license receives free updates, upgrades and license maintenance during the active period.    

Online Store

of EAZ Solution
Screenshots of Eazy Fix - Windows Time Machine:
Features
does not require hidden partition or reserved space to install.

continuously protects system from any known or unknown software threats.

can take a new snapshot of PC regardless the hard disk size and system size in less than 5 seconds without interrupting your work.

can roll back to a snapshot in less than 10 seconds even if Windows fails to bootup.

can restore data up to the minute of crash.

works as if it's not even there, it doesn't require user to do anything.


Windows 10/8/7/Vista/XP



Benefits
recover Windows if Windows fails to bootup.

recover deleted or corrupted files.

clean up virus and spyware infections.

remove unwanted software installations.

rollback failed software deployment.

reset workstations to desired baseline upon restart.

create test beds for software testing.

protect system and data from unauthorized access.

              Eazy Fix is the easiest, fastest and best system instant recovery solution.
I would like to thank
EAZ Solution
for the gifts for
New Year 2019
Giveaway Open To All
Exclusive
30% Off on Regular License
Coupon Code PCUN-LIXT-BLIH

v11
         10 Perpetual Licenses with 1 Year Upgrade Service
free minor updates v11.1, 11.2 and so on...

free major upgrades v12, 13 and so on... until Dec 2019.

          I may increase or decrease the number of licenses based on the number of valid entries.           
I have extra licenses. I may give a license to a few good comments.
Rules Of The Giveaway
Comment on "why you would like to win Eazy Fix" to make a valid entry.



Share the giveaway on social media, forums, blogs, etc. 

(Optional but recommended)



PM me within 3 days to claim the win.

I reserve the right of final decision in case of disputes.

Giveaway Ends On Dec 31, 2018
Merry Christmas and Happy New Year