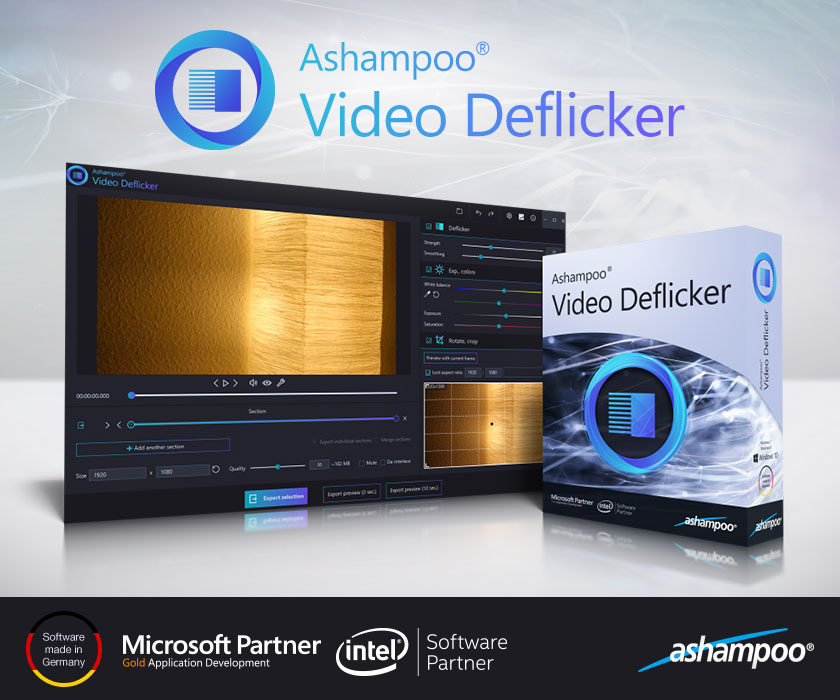 Especially when shooting timelapse videos, strobing, as caused by like light bulbs, can lead to annoying flicker. Ashampoo Video Deflicker fixes flickering videos automatically, including propeller flicker often found in drone or airplane footage. The program even takes care of display flicker when filming off computer screens without any need for manual user intervention! Enjoy flicker-free and visually stable videos! Ashampoo Video Deflicker does more than the name implies. It also rotates and crops your videos. The program mirrors and rotates videos either by 90 / 180 / 270 degrees or freely with custom image formats and aspect ratios. And while other programs have you click through multiple nested menus, Ashampoo Video Deflicker bundles all features in one easily accessible place with sliders and text boxes for quick input. Enhance white balance and colors or optimize exposure and saturation. Ashampoo Video Deflicker turns your camera footage into realistic and vibrant videos with support for all common formats and codecs at any resolution (including HD, 2K and 4K).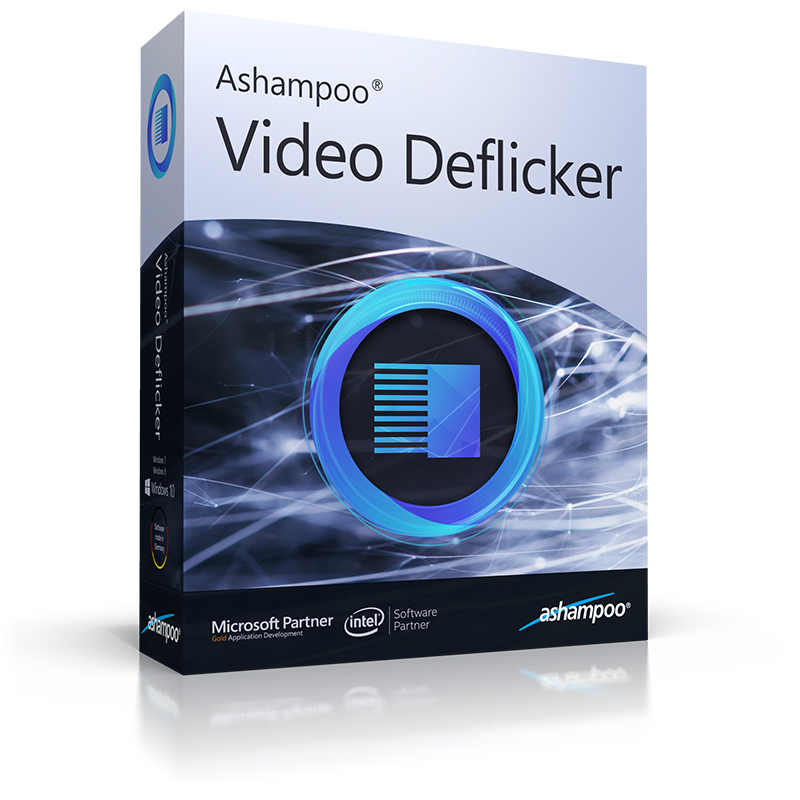 Product info:

Name
: Ashampoo Video Deflicker
Version
: 1.0.0
Release date:
18/02/2019
Update release date:
18/02/2019
Price
: EUR 39.99, USD 39.99
Trial Period:
30 days (10 days + 20 days after email registration)
Category
: Multimedia Software
Languages
:
Size
: 90,79 MB, 92.969 kB, 95.200.215 B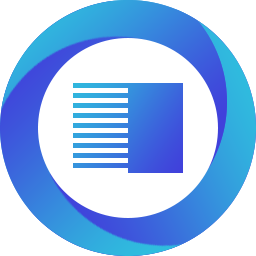 Features:
- Automatically removes flickering in your videos
- Optimize white balance, exposure and color saturation
- Rotate and mirror videos with ease
- Rotate shots freely
- Crop videos to any format
Homepage:

https://www.ashampoo.com/uk/
Product Website:
https://www.ashampoo.com/uk/gbp/pin/0346...-Deflicker
Download:

https://www.ashampoo.com/ashampoo_video_...ker_sm.exe
(90,79 MB)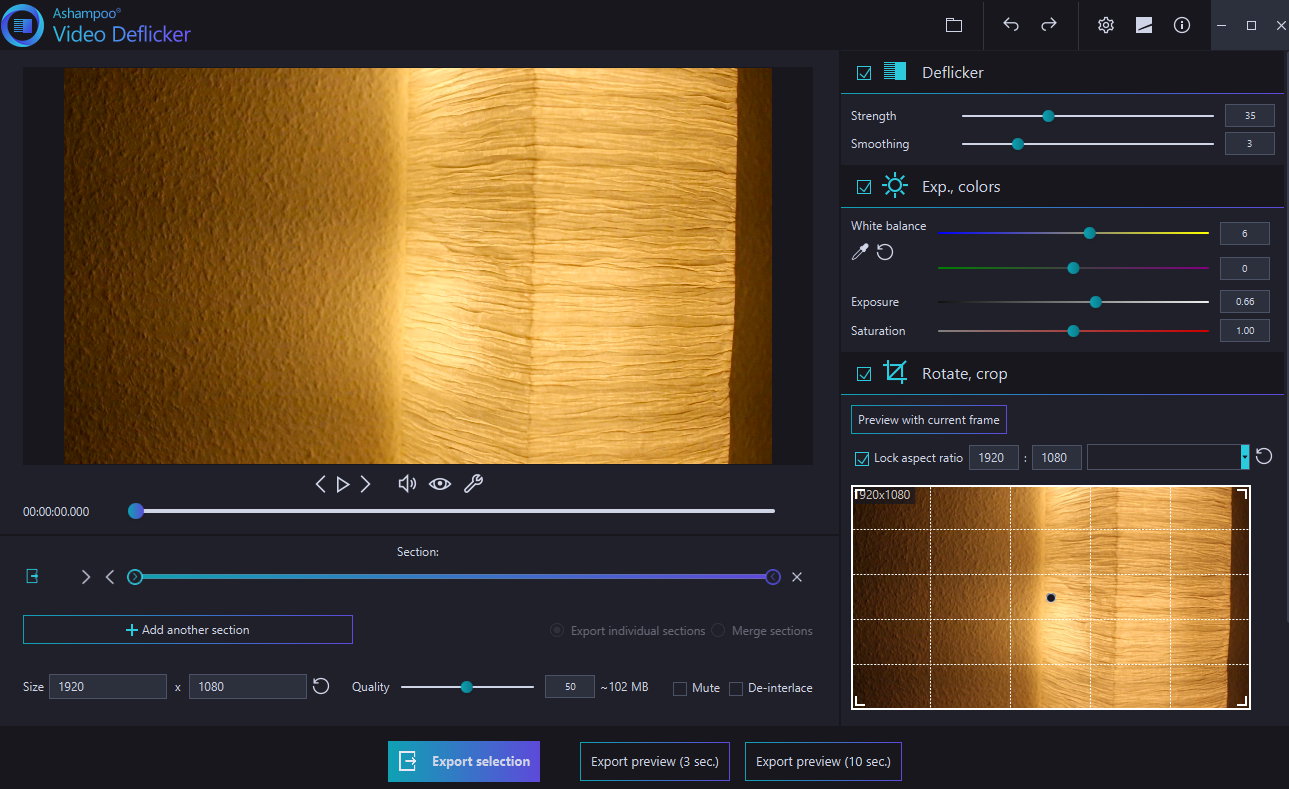 System Requirements:
Operating System:
You need the 64-bit version for the following operating systems:
Windows 10, Windows 8, Windows 7
Software
:
Windows Media Player 10
.NET Framework 4.0
Processor:
DVD quality editing / production - Dual-core processor with 2.4 GHz or better
HD quality editing / production - Intel Core i5 / i7 or similar quad-core processor
RAM
:
2 GB or higher for DVD quality editing / production
4 GB or higher for HD quality editing / production
8 GB or more recommended
Graphic card:
DirectX 9
Pixelshader v2.0
Min. 128 MB RAM.
Min. 1280 x 1024
Other
:
An Internet connection is required to activate the program. The program license is verified repeatedly at regular intervals.
For some services an Internet connection is required.
Facebook
:
https://www.facebook.com/Ashampoo
Google+:
https://plus.google.com/+ashampoo
Youtube:
https://www.youtube.com/user/AshampooHolding
We have 5 lifetime licenses for our members and visitors
If you want to win a license, simply leave a reply here and share the giveaway on your social media to let others know about
Giveaway will end after 2 weeks. Winners will be selected using Random.org
PM me within 2 days to claim your license
Good Luck for ALL!