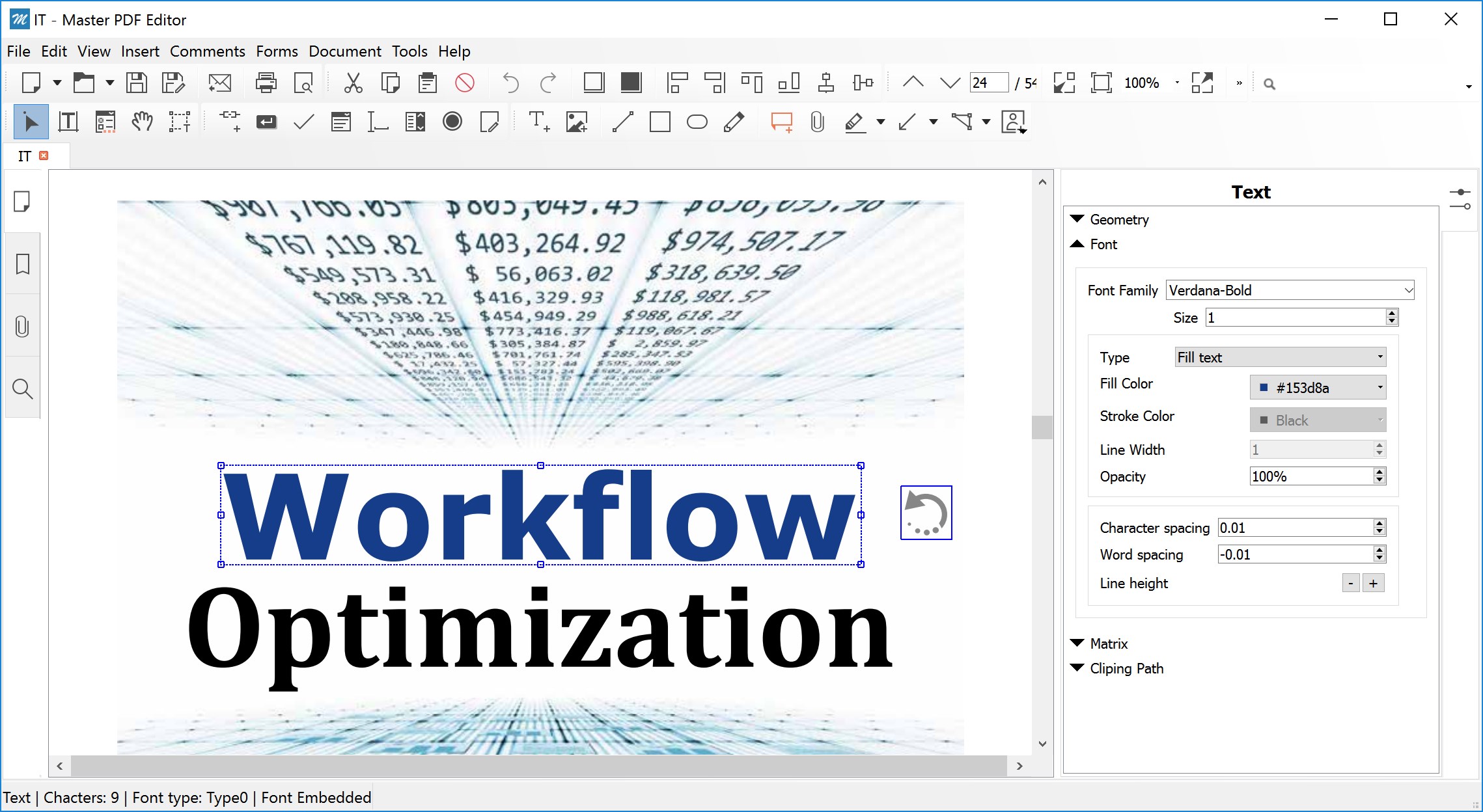 Quote:Master PDF Editor – Features

Edit PDF text, images and pages with full editing features.

Create new PDF or edit existing ones.

Add and/or edit bookmarks in PDF files.

Encrypt and/or protect PDF files using 128 bit encryption.

Convert XPS files into PDF.

Add PDF controls (like buttons, checkboxes, lists, etc.) into your PDFs.

Import/export PDF pages into common graphical formats including BMP, JPG, PNG, and TIFF.

Split and merge PDF files.

JavaScript support.

Dynamic XFA form support.

Validation Forms and Calculate Values.

Fast and simple PDF forms fill out.

Signing PDF documents with digital signature, signatures creation and validation.

Changing font attributes (size, family, color etc).

New features:
Implemented redaction of sensitive information functionality.

Implemented initials creation and insertion for PDF documents.

Added alternative rendering method for PDF documents. It is distinctly faster and automatically turned on for HiDPI screens.

Added option: reduce RAM usage or increase render speed.

Implemented direct FDF file opening without the need to open PDF file and import FDF.

Implemented layers functionality (Read only currently. Editing will be added in further releases).

Added drag-and-drop pages functionality, which works between different Master PDF Editor instances.

Added possibility to open multipage TIFF files. When opened, TIFF files are automatically converted to PDF document.

Added possibility to edit raster images in external application.

Added new Insert Pages dialog. Now it is possible to insert pages from multiple files and image files.

Added possibility to specify move to action by a button or a link with visual selection of the target position using scroll, mouse and zoom.

Added default size setting for Sticky note comments.

Added possibility to edit vector image by vertices.

Added line width and opacity for Grid settings.

Added option to save last used tool.

Added Locked parameter for comments.

Implemented reply functionality for comments.

Added status setting for comments.

Implemented possibility to view comments by type, author and state.

Implemented Previous and Next view functions.

Added functions to move object forward or backward one position.

Added Edit raster images tool.

Added Edit vector images tool.

Added certificate settings.

Added certificate manager for Linux.

Implemented full UTF8 support for PDF forms.

Extended available information on certificates when viewing.

Implemented PDF encryption and decryption with certificates.

Altered check for trusted certificates in Linux. Now trusted certificate is a certificate with opened key in stored in system certificates or imported during certificate check.

Added extract all images function to export all raster images into folder.

download:https://code-industry.net/get-masterpdfeditor/
home:https://code-industry.net/masterpdfeditor/
change log:https://code-industry.net/what-is-new-in-master-pdf-editor-5/