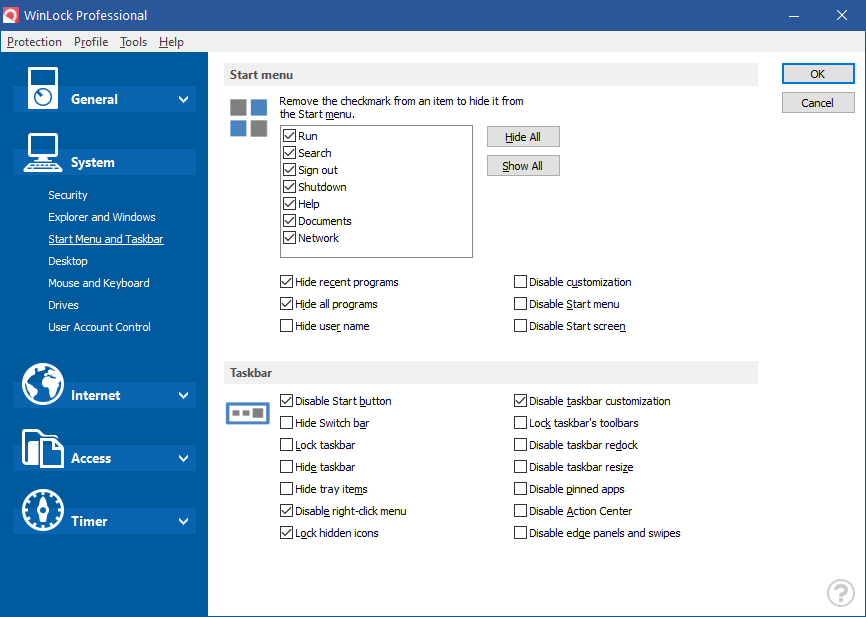 Powerful security solution that protects your computer against unauthorized use. All-in-one solution that enables you to control security aspects of Windows on a very low level.
Quote:Smart restrictions
Create different protection schemes for each account in a multiple-user environment. For each user, WinLock will activate only the selected restrictions.
Internet restrictions
Internet Explorer restrictions and website content filters suited to control and protect Internet access. Supports most of known browsers.
USB authentication
Access WinLock in a secure way by USB flash drive. Turn any USB drive into protection key for WinLock.
Parental control
Limit access to untrusted and questionable websites. Keep your kids safe on the Internet.
Snapshots
Take desktop and webcam snapshots at a specified time.
Guest password
Using it, users can unlock the system without entering the master password.
Remote control
Lock, capture snapshots, apply restrictions remotely from PC or mobile.
Data protection
Block access to selected files, folders and applications.
Onscreen timer
Display the remaining time on digital clock display.
Removable devices
Flexible access to flash drives, network and removable devices.
Executable protection
Password protect programs and applications.
Priority support
A personalized level of service for customers seeking technical help.
Windows 2000

Windows Server 2003 and higher

Windows XP

Windows Vista

Windows 7

Windows 8

Windows 10

Supports 32 and 64-bit builds


Version 8.12
01/10/19
Support for Chrome 71, Opera 57 and Yandex Browser 18.11.

Lock hidden icons.

https://www.crystaloffice.com/winlockpro/
http://crystaloffice.com/wpro.exe
https://www.crystaloffice.com/history/wpro.html