https://www.stickypassword.com/
Promo2day

Sticky Password Premium

Contest
We at Promo2day would like to thank the

Sticky Password

team for the

exclusive

contest
3 x Lifetime licenses and 10 x One-year licenses
Sticky Password

—

The Premium Password Manager
Sticky Password is the award-winning password manager and form-filler that has been protecting millions of passwords around the world for more than 20 years. No more forgotten, unsafe or reused passwords! With Sticky Password, your logins, passwords and other sensitive data is securely stored on your device and encrypted using AES-256 — the world's leading encryption standard.
Of course, Sticky Password also generates new strong, unique passwords whenever you need them. What's more — you won't have to worry about typos and entering your data on all those sites you visit. Sticky Password makes your online life easier by typing your data for you in online forms and login pages.
Now even safer with Dark Web Monitoring
>>>
Supports Windows, Mac, Android and iOS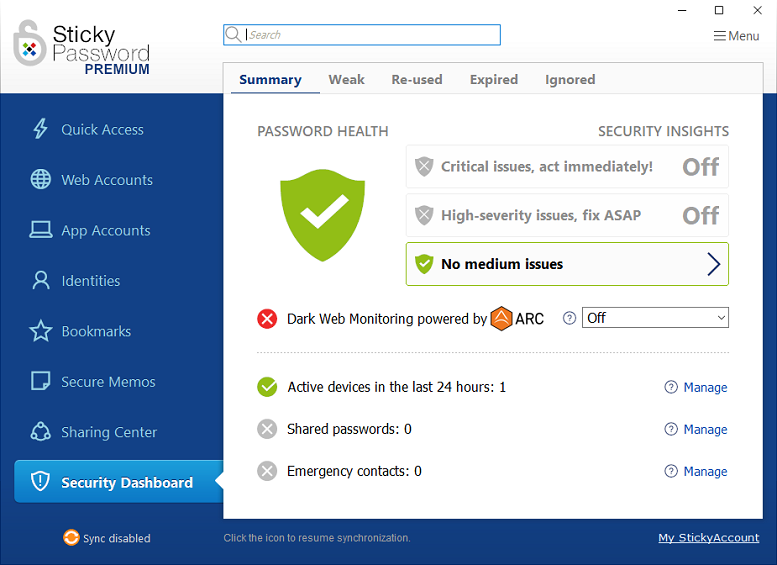 Sticky Password Manager Features
Free features

(Includes 30 days of Premium and Dark Web Monitoring)
Password security for one device without sync, backup, password sharing, Emergency Access, or Dark Web Monitoring. (No donation to help manatees)
Premium only

(30‑day money back guarantee)
Ultimate password security for all your devices includes sync, backup and all Premium features, plus Dark Web Monitoring. Saving manatees with each license sold!
Security for your private data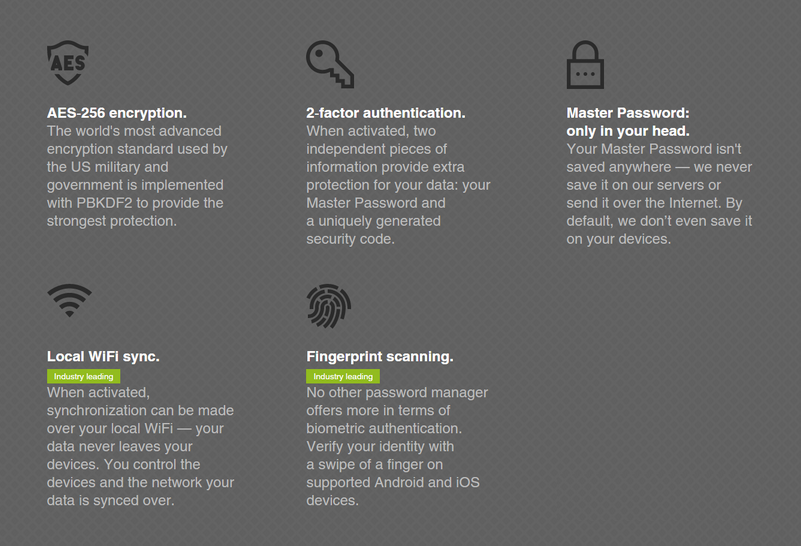 Password manager
Creates & remembers strong passwords for all your accounts and types them for you.




Keeps all your logins, credentials and credit cards ready for use and absolutely secure.




You'll need to remember only one password.



Autofill & autologin
Capture data as you fill out forms and let Sticky Password type it for you next time. Every time.




Choose from your identities — the addresses, names and data of your various life roles.




Sync your data and use it on all your devices.



Password generator
Create unique superstrong passwords automatically. For each of your accounts.




Identify and change weak, old and reused passwords with the security dashboard.




Let Sticky Password save your passwords for you. Because remembering them all is hard.



Dark Web Monitoring
Sticky Password automatically monitors your passwords against data breaches.




You'll be alerted when a threat to your credentials has been identified.




Stop misuse of your credentials to protect your online accounts.



Digital wallet
Pay with your credit cards with one click.




Keep your credit card numbers in the super‑secured vault that only you can access.



Secure notes
Secure any text you want with AES‑256 encryption used by the military.




Secure Memos protect your passport, ID, software license information, and much more.




Access Secure Memos on your mobile, tablet and desktop, wherever you go.



Secure sharing
Grant access to team, company or family accounts with complete control and security.




Set different permissions to different people, edit and remove access easily.




Apply good password habits across your business. Improve employee productivity.



Emergency Access
An important element of security is knowing that your online accounts are in good hands even if something happens to you.




You set the conditions under which access will be granted.




You'll have the peace of mind of knowing that your digital legacy is being taken care of.



Synchronization
Sync all your passwords, logins, credentials and more to all your devices — so you can access them anywhere and anytime.




Select from industry-leading sync options. Use cloud or local WiFi sync — your encrypted data never leaves your devices.



Platforms & browsers
Chrome, Firefox, Safari, Edge, Opera and more.




Windows, Mac, Android and iOS (iPhone, iPad).




Mobile, tablet and desktop.




Free limited to one device



USB password manager
Create a portable copy of your Sticky Password for Windows with all its secured data.




Save it on your USB flash drive, external hard‑drive or even a memory card.




Access your encrypted data on any Windows computer — at work, school, the library...



Supported languages
English, German, French, Czech, Russian, Japanese, Ukrainian, Dutch, Brazilian Portuguese, Spanish, and Polish



Visit https://www.stickypassword.com/features/ to explore more features
Sticky Password Download
https://www.stickypassword.com/download
Sticky Password Purchase
https://www.stickypassword.com/buy-premium
Exclusive 75% OFF the Lifetime license and 25% OFF the One-year license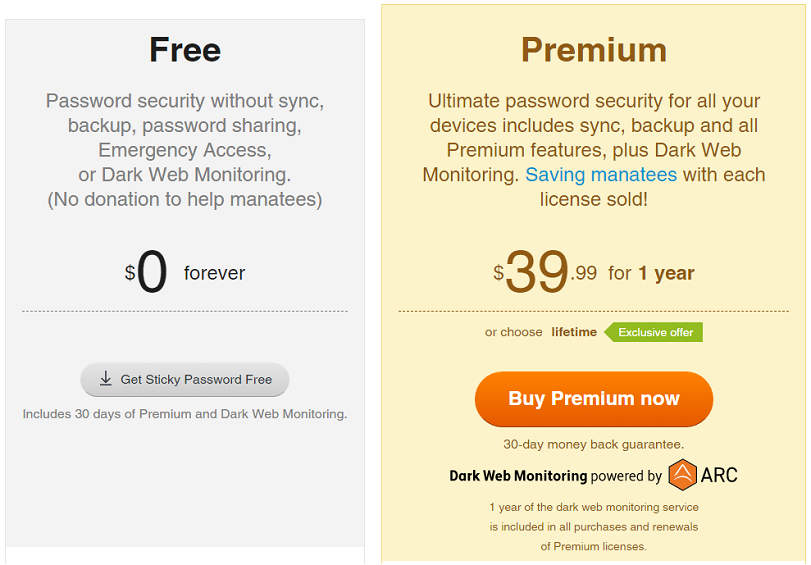 About Sticky Password
Sticky Password is the developer of an award-winning password manager and form filler. Since 2001, our security products have been protecting millions of passwords for consumers and small businesses; providing automatic login, one-click form filling and secure storage for sensitive personal data. In addition to cloud storage and backup, our native, multi-platform application solution offers users a local WiFi-only sync and backup options that avoid storage in the cloud.
Website:
https://www.stickypassword.com
Support:
https://www.stickypassword.com/help
Facebook:
https://www.facebook.com/stickypassword
Twitter:
https://twitter.com/stickypassword
Secure password management for teams
https://www.stickypassword.com/teams
Lamantine Software

|

Sticky Password Premium Contest
I would like to thank the

Sticky Password

team for the contest prizes

Contest Details
Sticky Password Premium
3 x Lifetime licenses and 10 x One-year licenses
Contest Rules
1. Post your comment on Sticky Password Premium in this thread
2. Like or Follow Sticky Password on their social networks (Optional)
3. Share the contest on social networks and other platforms (Optional)
4. Contact me within 2 days of the winners' selection to claim the prize
Contest Ends
March 28, 2023
Good luck